A Recap Of 2020
Published February 5, 2021 • 7 mins read
It's quite obvious that the year 2020 was a tough one for many.
Although personally, it had no negative impact on me, I really empathize with everyone around the globe that the COVID-19 pandemic affected. My heart goes to all of you. Much love!
Like I said earlier, I recorded a lot of personal progress during the pandemic. So without further ado, permit me here to walk you through the highlights.
Highlights
Released a Default Model Sorting - This is the first Laravel package I released in 2020.
Released Extended Artisan Commands - This is the second Laravel package I published last year.
Published 16 Technical Articles - I was able to publish 16 technical articles which include a series I tagged Laravel lessons for beginners.
Got My First MacBook - I joined the MacBook gang last year, and I tell you sincerely, it has been so worth it!
Upgraded My Workspace - Last year (2020) I also took my workspace to the next level.
Started working with Across The Horizon Technologies As CTO - I joined ATHT last year and within months got promoted to the position of a CTO. But the beautiful thing is that it's 100 percent remote.
Began working for Greenlite Nigeria as A Software Engineer - I also joined Greenlite Nigeria where I am currently focusing on their backend. It's an onsite job which required me moving down to Abuja, Nigeria.
Resigned From My First Job Ever - last year, I sadly had to bid farewell to my first employer and coach Mr Emeka Joseph (Deacons Digital Solutions).
Build A Remote Team - Following my promotion as a CTO, I interviewed & recruited a 4 man team (myself included) to aid in the dispensation of tasks and so far they have been outstanding.
#Endsars# Protest, A Personal Birthday Gift - I joined the #EndSars# protest as a timely birthday gift to myself.
Litehost Sold Over 60 CPanel & Registered 80 Domain Names - Litehost, which is my side project, wasn't left out in the recline.
Released API Test Helper - This is the third Laravel package I released last year.
Released Simple Query Filter - The fourth and last Laravel package I released last year.
Personal
Ever since I joined the tech space in 2017, I have been subtly preparing myself for remote work and last year it finally paid off. Personally though, I have always hated the stress of hitting the road every morning to commute to the office. So this enabled me to wholly embrace the global remote work transition that began last year.
My Workspace
Also last year, I decided to stop biking to the office and rather focused on getting my workspace ready(although its still not my dream workspace yet, but we are getting there) all in view of remote working. Which entailed, I getting myself a better computer (a MacBook), a wireless mouse & keyboard, a second screen (LG monitor), a table and a swivel chair.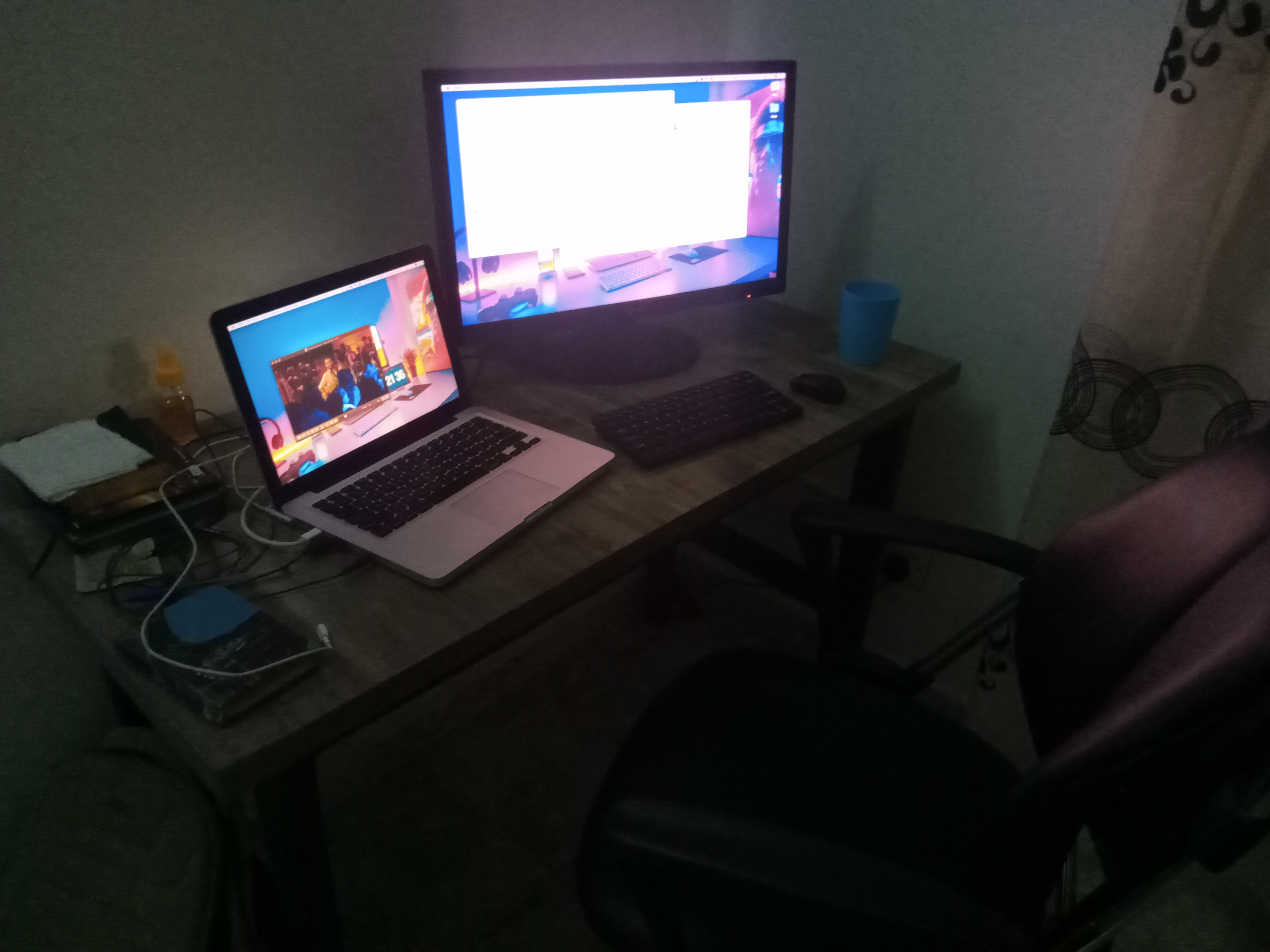 My Workspace
Remote Work & Relocation
As I earlier mentioned (repeatedly), I got two job offers during the lockdown; which includes a remote job in the US and an onsite job in Abuja. One of which required me moving to Abuja in September when the lockdown was eased. I don't think it's really necessary to go into details about the jobs yet, but my two bosses have been really exceptional. By the way, if you need more information concerning my work, you can always check my LinkedIn profile where you will also see information on my current positions in the two companies. Although, I initially started out working with three companies, but sincerely after three months of active work for the three companies, I had serious rethink about my mental health, and decided to resign from one of the companies (Deacons Digital Solutions). Which now leaves me working majorly with the two companies I earlier mentioned.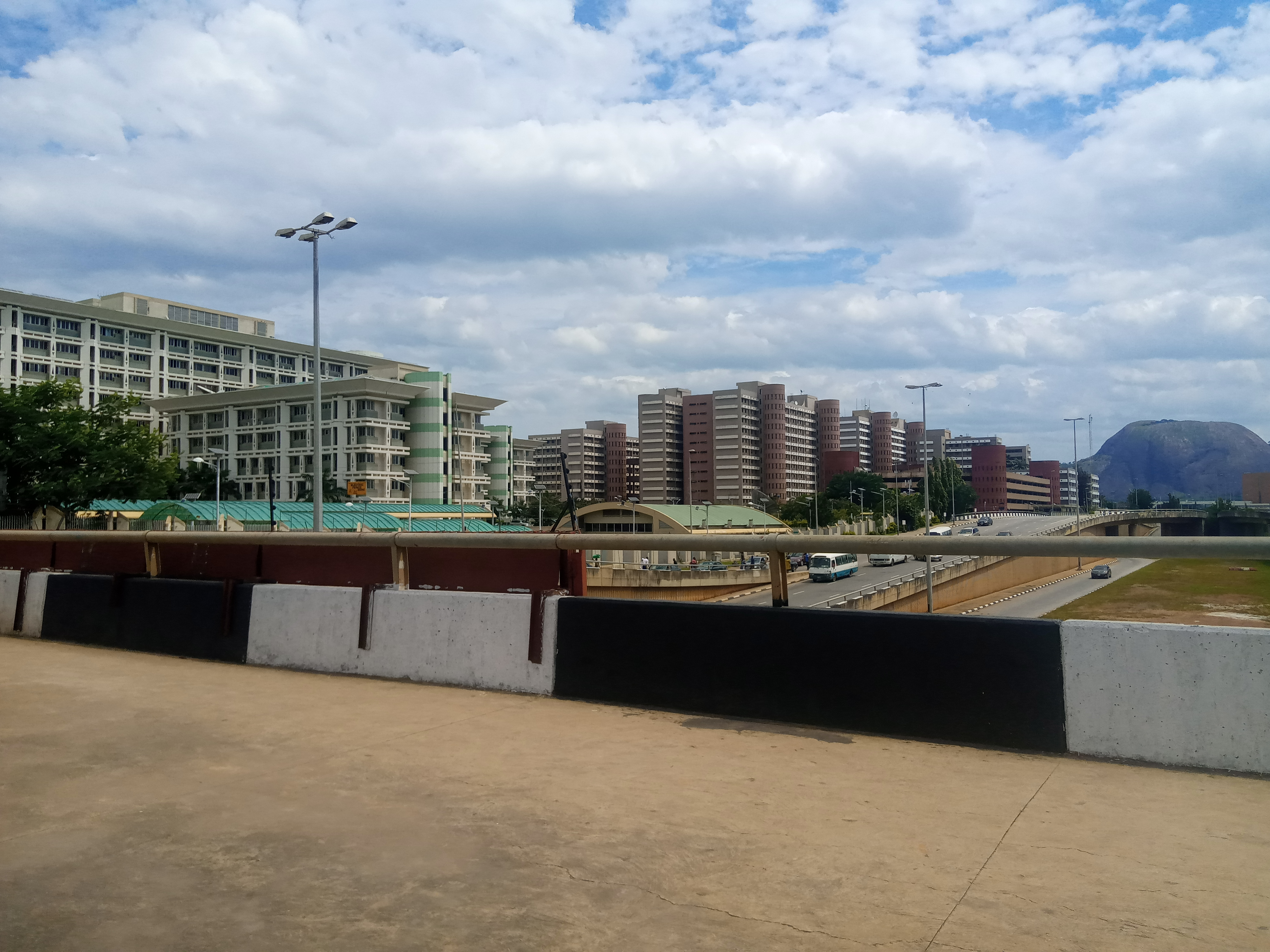 Abuja Nigeria
#EndSars Protest
One of the mantras that has greatly shaped my life is that which says Life only gives you what you demand, not just what you desire. So on my birthday(the 12th of October), I joined my fellow Nigerians live in Abuja to protest against the prevalent police brutality and bad governance. Well, judging from my schedule and all, I wouldn't have necessarily had time to do it but, I had to not just for myself, but also my family, and for every other citizen of this Nation at large. I believe we deserve better, and we must have better!
Berger Jct, Abuja
Building A Remote Team
So a month after working for my US-based company, my CEO judged me capable enough to run the technical department and promoted me to the position of a CTO. I was so ecstatic not knowing I was in for an adventure. Now, initially most of our work was outsourced to external teams, and I was to handle the ones I could. But when I got promoted, I proposed the idea of setting up an in-house team that could take on these projects and it was well received.
Now, I have always been an avid fan of the methodology applied by Basecamp to run their company. So I based my the proposal on that, which was to recruit a UI/UX designer, a frontend developer and a mobile developer while I take the role of a backend developer and the CTO. A very small team that can have specific roles but still work together for effective results.
With immediate effect, we published the job openings, and got a lot of applications. I was put fully in charge of the recruitment process, so you can be sure there was no `bubble sort algorithm` test. LOL. It was a virtual interview with a maximum of 2 candidates for each role. The first stage of the interview was technical while the second stage was managerial and I was present in all of them. It was a total of 12 interviews, that were very interesting, fun but also quite stressful. But it was that process that gave birth to Divine( A Mobile Developer), Solar ( A Frontend Developer) and Chinaza(A UI/UX Designer) and they have all been doing so great!
Though it didn't quite end there, as in a very short time we moved our project/task management to Trello, our codebase to GitLab, and we stuck to slack as our virtual workspace. We also introduced Monday standup, and that has also proved to be very productive so far for the team.
We have also shipped a lot of projects since we started, which includes websites, web apps and mobile apps. You can see for yourself here.
Open Source Contributions
Just like the previous year(2019), I continued my journey in the open-source world. I published 4 Laravel packages, of which I am also the maintainer. But for clarity sake, let me explain what they all do technically, hopefully then you will get to understand what I build each package for.
Default Model Sorting - This package is built for setting the default sorting column of your Eloquent Model.
Extended Artisan Command - This package allows you to generate plain PHP classes, traits, and interfaces from your terminal.
API Test Helper - This package provides you with a collection of helper methods for testing and debugging API endpoints.
Simple Query Filter - This package allows you to filter eloquent model queries based on the HTTP request.
Technical Articles
Now having done all that last year, I also intended to publish at least 30 technical articles that are focused on the Laravel framework. Fortunately, achieved it! Among these articles are the ones I have arranged in groups as a series for beginners(Laravel Lessons). You can always check for all this articles on my website.
Analytics
Under analytics i also achieved;
- 7.2k Users - 81% above the previous year.
- 14.8k Pageviews - 135% above the previous year.
- 9.8k Sessions - 94% above the previous year.
Which sums up to the fact that my personal website performed better than the previous year. Which is a big win for me! Sweet!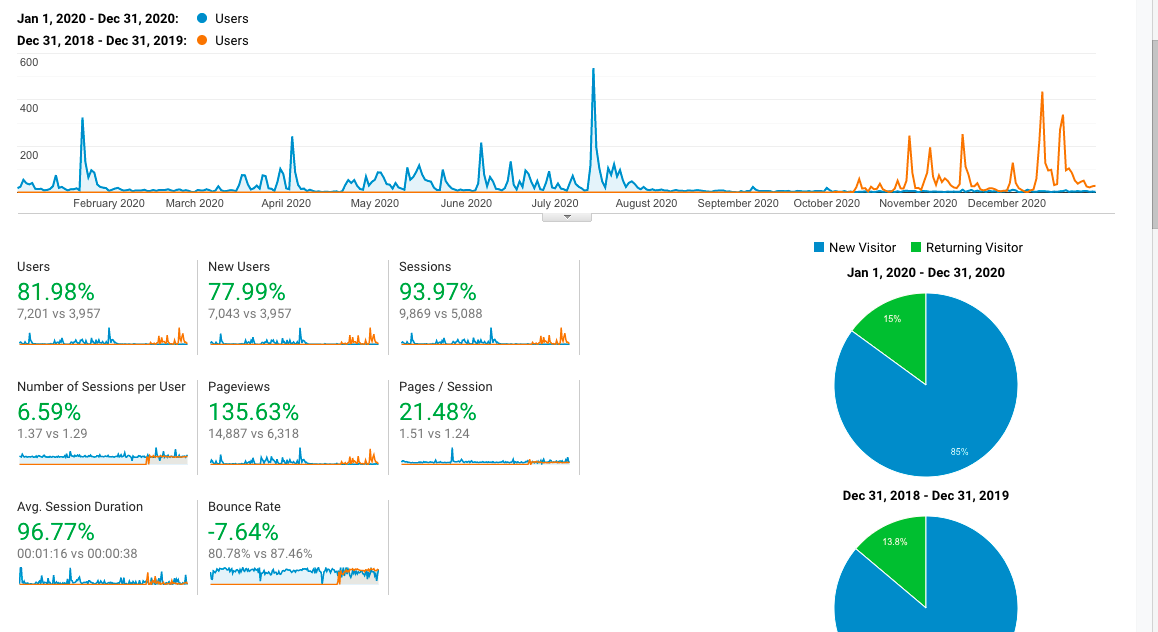 ---
Business
I started Litehost in 2019, we launched on the 25th of December and since then its being doing greatly.
So far, we sold over 60 CPanel and registered over 80 domain name before the end of the year(2020) .
Though, the hardest part of running Litehost has been providing customer support. But my partner who is in-charge of marketing has been very helpful in keeping our social media handles up and running, answering hosting related questions and finally hitting me up when it becomes more technical.
I won't go into details of the income but Litehost has been paying its bills which includes the server infrastructure, the adverts and the minor outsourcing we do to get things up and running. Which is quite good for a new company.
Although Litehost has been profitable so far and it still needs a lot of attention which i will give to it as its needs arises.
Into 2021...
I have a lot of fun goals for 2021 and they include:
- Learning how to drive -Even though, this is a carryover goal from 2020, I am more optimistic about it this new year. Maybe I should also include learning how to skate to it!
- Learning cryptocurrency and related technologies.
- Explore more product ideas around Litehost
- Building and maintaining more open-source packages.
- Publishing more technical articles.
With all being said, i look forward to 2021 being filled with a lot of promising and intriguing achievements for me!
Hey, have you tried Litehost lately?
Litehost is my side project which is a shared hosting platform with PHP & Laravel developers in mind. It has Composer, Git & PHP CLI pre-installed on its servers. SSH access is also granted on request. Litehost is pretty affordable. Try it today.